Production Chain
Our distinctive feature: the vertical production system
Product Creation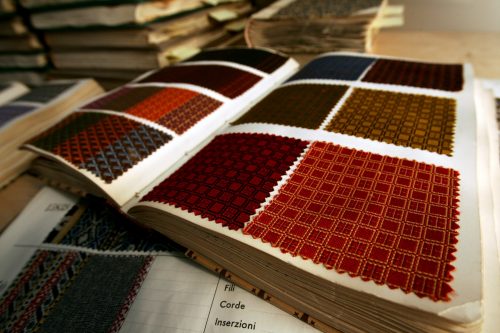 The whole production process is carried out by internal qualified staff. All designs for the jacquard looms are made and customized with a CAD station, while another station is dedicated to the study of new products and the design of printed fabrics.
On a daily basis, our style team works on new designs and color combinations and studies how to use new precious and innovative yarns. The Team also analyzes styles and techniques from the past thanks to the old important historical archive which includes designs and fabrics from the beginning of 1900s.
Production
BBC Jacquard production is made on jacquard looms weaving on 3 shifts every day.
Our jacquard looms, combined with the use of different yarns, allow the creation of necktie fabrics in pure silk or other natural fibers and the reproduction of complex patterns with a flawless attention to details.
BBC Jacquard's looms can also weave large designs and personalize fabrics with costumer's logos.
BBC Jacquard cooperates with dyeing and finishing companies of Como and Biella textile districts.
We have a strong relationship with an historical yarn dyeing company specialized in processing silk, thanks to that we can offer a wide variety of silk yarns in hundreds of colors.
Sales
The internal sales team is BBC Jacquard's distinctive feature. The team works in close contact with the market in order to satisfy and anticipate the fashion trends.
The team is tasked with ensuring our customers get the best possible service, from the collection creation, to the sample presentation and the final production.
Our strength is the possibility to personalize our collections according to the customer's needs and requests, satisfying all kind of clients all over the world.